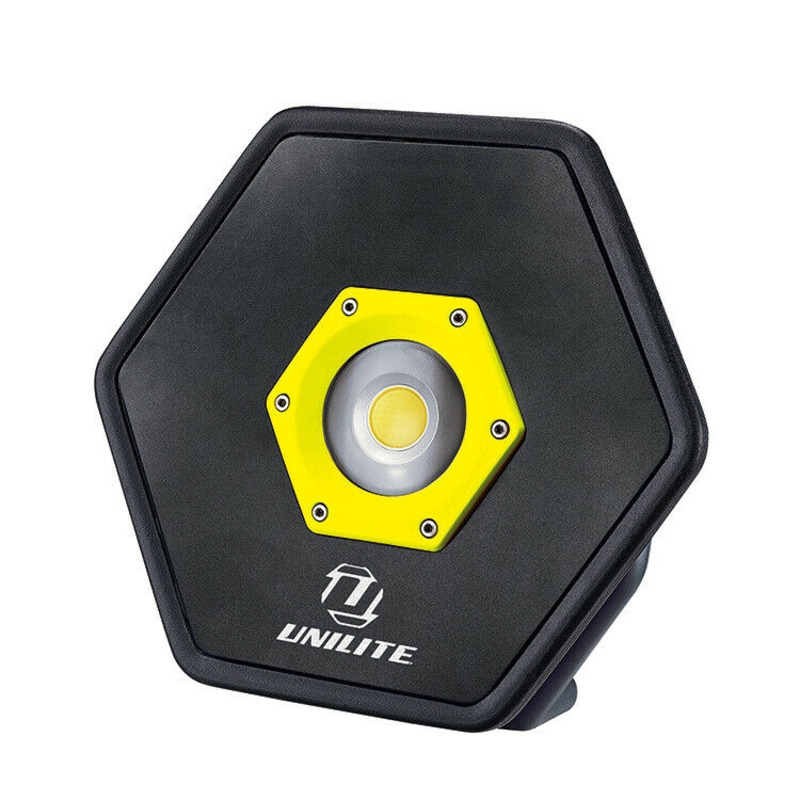 The SLR-4750 is the largest of the three models in Unilite's range of hexagonal rechargeable LED Site lights with an output of 4750 lumens from a 50 W COB LED on the maximum setting and has three output levels to chose from.
Offering excellent light spread and power the SLR-4750 is operated using the power button located on the back with each press cycling through low, mid, high and off.
Utilising a 11.1 V 5200 mAh lithium-ion rechargeable battery, the SLR-4750 has a run time of up to 1 hour, 30 minutes on the highest setting. The battery is easily recharged by lifting the dust cover on the back of the light and inserting the charging cable into the charging port at one end and inserting the other end into the mains socket. The included mains adaptor comes with four different plug attachments for use in multiple countries such as UK, USA, Australia and in the EU.
While charging the three charging indicators on the back will display charging progress with one light flashing to start with before becoming solid and the next light flashing until eventually all three LEDs are solid after approximately 4 hours, 30 minutes full charge time. Next to the charging port there is a USB port so that the light can also be used as a powerbank to charge external devices via USB such as a phone or tablet.
The three LED indicators also light up when the torch is turned on to show remaining battery power at the current output. It is made from industrial strength aircraft grade aluminium with super tough florescent yellow centre for increased visibility, and also features a large aluminium heat sink for heat dispersion.
A stand is tucked away at the back and can be pulled out and rotated within a 180° range so that the light can be angled in the perfect direction and it also doubles as a useful carry handle when pulled all the way out. The bottom of the stand features a large hole where the separately sold super strong magnet can be attached so that the light can be stuck to magnetic surfaces.
This site light is also compatible with the extendable single and double head tripods that are available to purchase separately.
Product Features
Heavy Duty Housing
Mains rechargeable
Reflective body for greater visibility
Adjustable stand for Light Angle
Stand can be used as a carry handle
USB powerbank function
Can still be used while plugged in to charge
Operational Modes
High: 4750 lumens; 1 hour, 30 minutes run-time; 80 m beam range
Mid: 2500 lumens; 3 hours run-time; 60 m beam range
Low: 1500 lumens; 6 hours run-time; 41 m beam range
---
Technical Details
Type: Rechargeable site light
Operating Modes: High / Mid / Low
Luminous Flux: Up to 4750 lumens
Colour Temperature: 6500 K approx.
LED: 50 W COB LED
Focus: Flood lighting
Beam Range: Up to 80 m
Run Time: See information above
Battery Required: built-in 11.1 V 5200 mAh lithium-ion battery
Charging Time: 4 hours, 30 minutes
Measurements: 236.5 x 265 x 61 mm
Weight: 1343 g
Switch Type: Push power buttons
Impact Resistance: IK07
Environmental: Water and dust resistant to IP65 standard
Warranty: 1 year
Regulatory Compliance: CE / RoHS
---
Packaging and Contents
Supplied in retail packaging and includes:
Unilite SLR-4750 rechargeable industrial site light x 1
UK mains power adaptor x 1
Changeable plug connection x 4
Manual x 1
Unilite SLR-4750 LED Rechargeable Work Light 4750 Lumens
STOCK CODE: EB/UNI/SLR-4750
£

119.99
(INC VAT)
£

99.99
(EX VAT)
Free delivery on orders over £40
Save Money . Work Smarter
WAYS TO PAY: