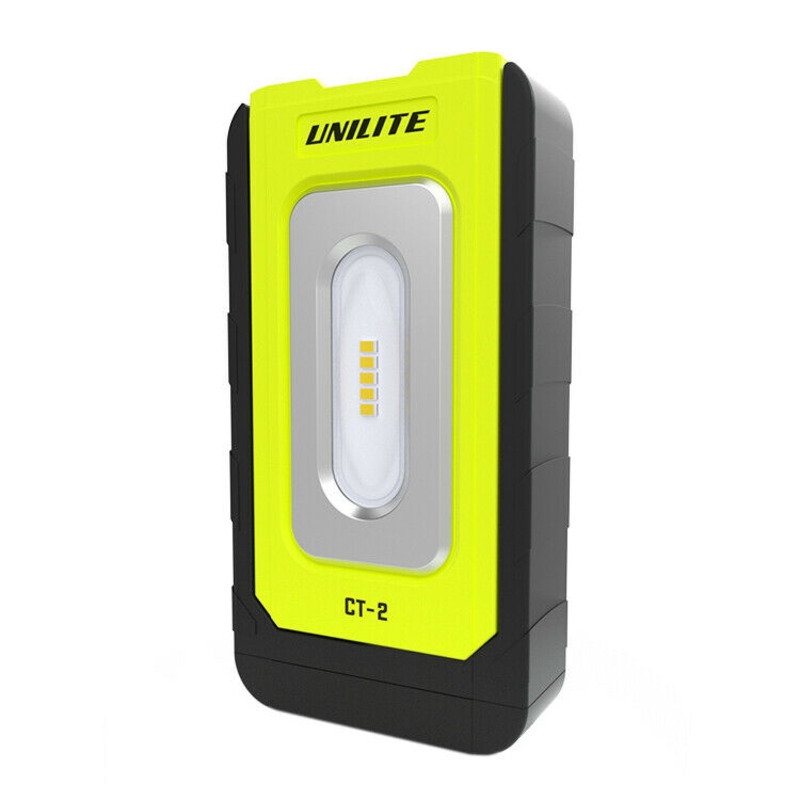 The Unilite CT-2 is a compact folding light with a maximum output of 250 lumens flood light from the main five white SMD LEDs.
As well as the flood light the CT-2 also has an additional torch function in the top with a maximum output of 100 lumens white light from a SMD LED. A single button on the back operates all light functions and each press will cycle flood, torch and off.
The base of the torch features a strong magnet to provide easy hands free lighting and the top section also has a hinged feature that allows the fluorescent part of the light to be pulled out from the black surround so it can then be used to free stand on a flat surface, or it can be puled all the way round and used at multiple angles while attached to magnetic surfaces to suit the task at hand.
Concealed in the top of the light is a small hanging hook which can be pulled out of the torch and rotated to aid hooking the torch on a handle, hook or a pole. A small clip is also situated on the back of the torch for easy carrying.
Powered by three AAA alkaline batteries, the CT-2 has a run-time of 4 hours on flood or 12 hours using the torch and can be operated in temperatures of -10°C to 40°C.
It is made from super tough construction with a IK07 impact resistance, featuring a florescent yellow centre and a durable black surround for easy grip. It is rated to IP20 standard, so has some resistance to solids, however it has no protection against liquids, so cannot be used in wet conditions.
Product Features
Heavy Duty Housing
Magnetic base for hands free use
Fluorescent body for greater visibility
Hinged body serves as a kickstand
Operational Modes
Flood: 250 lumens; 4 hours run-time
Torch: 100 lumens; 12 hours run-time
---
Technical Details
Type: Pocket light
Operating Modes: Flood / Torch
Luminous Flux: Up to 250 lumens
LED: 5 x white SMD LEDs / 1 x white SMD LED
Focus: Fixed
Run Time: Up to 12 hours run-time
Battery Required: 3 x AAA alkaline (included)
Measurements: 126 x 65 x 23 mm
Weight: 170 g
Switch Type: Rear push button
Environmental: Dust resistant to IP20 standard
Warranty: 1 year
Regulatory Compliance: CE / RoHS
---
Packaging and Contents
Supplied in a poly bag and includes:
Unilite CT-2 pocket light x 1
Alkaline AAA batteries (fitted) x 3
Unilite CT-2 LED Folding Pocket Torch
STOCK CODE: EB/UNI/CT-2
£

14.99
(INC VAT)
£

12.49
(EX VAT)
Free delivery on orders over £50 (Most UK)
Save Money . Work Smarter
WAYS TO PAY: