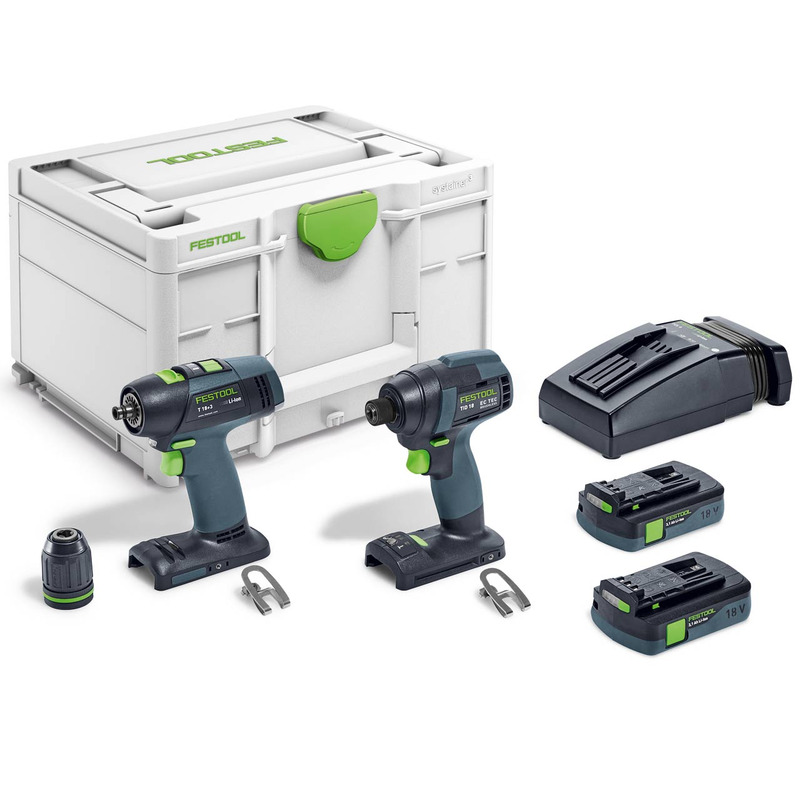 The Festool 18V 2x3.1Ah Impact/Drill Driver Combi Kit 576493 is and ideal combi kit for all trade professionals as it provides quality durability and power. Designed to be compact for hard to reach places these tools are also lightweight to reduce tiring for the user, increasing productivity throughout the working day. Designed to be safe as well as powerful these tools have a kickback-free tangential hammer mechanism protecting the user's wrist from injury and excessive tiring. This combi kit includes the TDI18 Impact drill, the T18+3 Drill, two 3.1Ah batteries, a rapid charger, and a belt clip, all supplied in a SYS3 M 237 Systainer, compatible with the BOTT vehicle fixtures.
Features and Benefits:
Long lasting quality components
Ergonomic design for longer accurate comfortable working
With a convenient tool-free 1/4" holder, an integrated bit storage and LED
TID Technical Specification:
Battery voltage - 18V
Gears - 3 + T-Modus
Idle engine speed, 1st/2nd/3rd gear - 0 - 1200/0 - 2000/0 - 3200 min?¹
Max. number of strokes - 4500 min
Max. torque - 180 Nm
Max. screw size for softwood - 8 x 220 mm
Tool holder - 1/4"
Supplied With:
1 x TID Impact Drill
1 x T18+3 cordless drill
2 x 3.1Ah Battery
1 x Rapid charger
1 x Belt clip
1 x SYS3 Systainer
Festool 576493 18V 2x3.1Ah Impact/Drill Driver Combi Kit
STOCK CODE: FES576493
£

556.99
(INC VAT)
£

464.16
(EX VAT)
Free delivery on orders over £50 (Most UK)
Save Money . Work Smarter
WAYS TO PAY: