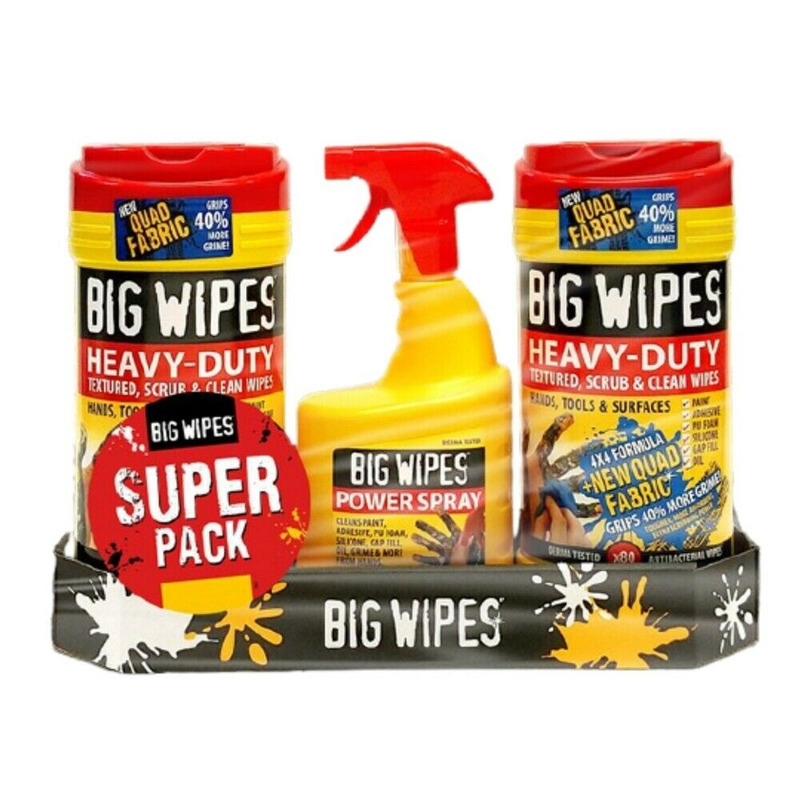 Bundle Includes:

- 2 x Big Wipes Red Top 4x4 Heavy-Duty Large Hand Cleaning Wipes Tub of 80
- 1 x Big Wipes 4 x 4 Anti-Bacterial Power Spray 1L

*Cage not included, but can be purchased separately here:https://www.powertoolmate.co.uk/Products/0040000b0004/EB%252FBIGWIPES%252FCAGE*

Big Wipes Red Top 4x4 Heavy-Duty Large Hand Cleaning Wipes:

Dual-sided 'scrub & clean', industrial strength, antibacterial, heavy-duty cleaning wipes with Quad Fabric, ideal for use on the toughest stains and most ingrained dirt. Heavy-Duty wipes offer the perfect fabric combination:
Scrub face - The enhanced scrubbing power of the abrasive surface drives the powerful Big Wipes 4x4formula deep into the dirt to speed up cleaning.
Smooth face - The smooth face now has an absorbency of 7.93 gr/gr, which equates to a fabric absorbing quality of almost 800%! This results in the muck being soaked up and trapped in the wipe, leaving your hands, tools and surfaces cleaner than ever.
The unique biodegradable, water-based formulation of 4x power cleansers ensures the removal of paint, adhesives, oil, sealants, silicone's, PU foam and general grime from hands, tools and surfaces. Preservative-free and designed to meet tough EU Regulation 1223/2009 for Cosmetic Products, Heavy-Duty wipes contain 4x skin conditioners - Aloe Vera, Lanolin, Vitamin E and Glycerine – all helping to nourish and protect the skin.
Use without water for heavy duty cleaning of hands, tools and surfaces. The scrub face of the wipe removes even the most stubborn grime, while the smooth face absorbs any excess. Ideal for trades people on the move.
Supplied in a tub of 80with a convenient 'Flip & Away Lid' and a smart dispensing system.

Big Wipes 4 x 4 Anti-Bacterial Power Spray 1L:

Big Wipes Power Spray is a powerful, fast-acting specialistcleaning spray, which contains the 4×4 grime-busting formula as used in all the industrial Big Wipes 4×4 wipes.


Suitable for all hard surfaces, tools and skin, this remarkable product can clean up both the most difficult to remove products such as epoxy and PU along withpaint, grease, bitumen & other oil based products, as well as water based 'green' products and general dirt and grime.
The Big Wipes Power Spray is ideal for cleaning larger surfaces or pre-treating areas such as walls, floors or UPVC window frames before wiping clean. It is also perfect for 're-charging' any of the 4×4 Big Wipes, helping them to work harder for longer.

The Power Spray is dermatologically tested and assessed to the latest EU Regulation 1223/2009 for cosmetics products – ZERO levels of skin irritation recorded. The water-based formula is biodegradable, free from preservatives, parabens and phosphates and offers antibacterial protection.

99.9% antibacterial (including Weil's disease). Preservative and paraben free, with a biodegradable formula, cosmetically compliant to the latest safety regulations. Dermatologically tested.
PTM X BIG WIPES MEGA PACK - 2 X HD Red Top Quad Anti-Bac Wipes & HD Spray
STOCK CODE: EB/BIGWIPES/TWIN/SPRAY
£

29.99
(INC VAT)
£

24.99
(EX VAT)
Free delivery on orders over £45 (Most UK)
Save Money . Work Smarter
WAYS TO PAY: