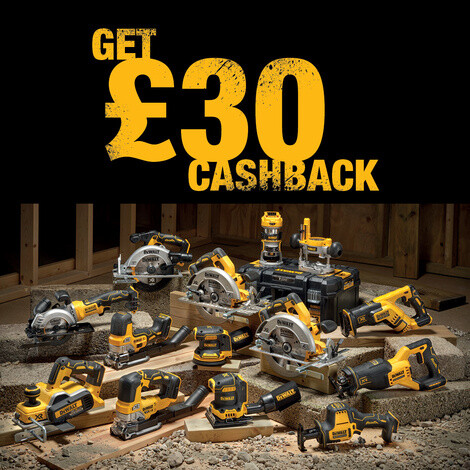 Dewalt 2021 Cashback Campaign
Dewalt 2021 Cashback Campaign
How it works:
Purchase any two products from the qualifying list together in a single transaction, between 1st November and 31st December 2021, and register your purchase online by 31st January 2022.
Visit https://www.dewalt.co.uk/CASHBACK
Register on MyDewalt or log into your existing account.
In the Redemptions & Competitons section, click on the Cashback promotion.
Complete the entry form and upload a copy of your receipt. (Receipt must show two qualifiying tools in one transaction.
Your claim will be verified, and you will receive your £30 cashback directly to the account specified on entry within 14 days.
Qualifying Products
DCP580N
DCS334N
DCS335N
DCS367N
DCS369N
DCS382N
DCS565N
DCS570N
DCS571N
DCS572N
DCW200N
DCW210N
DCW604NT
FOR FULL TERMS AND CONDITIONS PLEASE SEE DEWALT.CO.UK/CASHBACK
PLEASE NOTE THIS IS A CASHBACK SCHEME WITH DEWALT AND NOT WITH POWERTOOLMATE