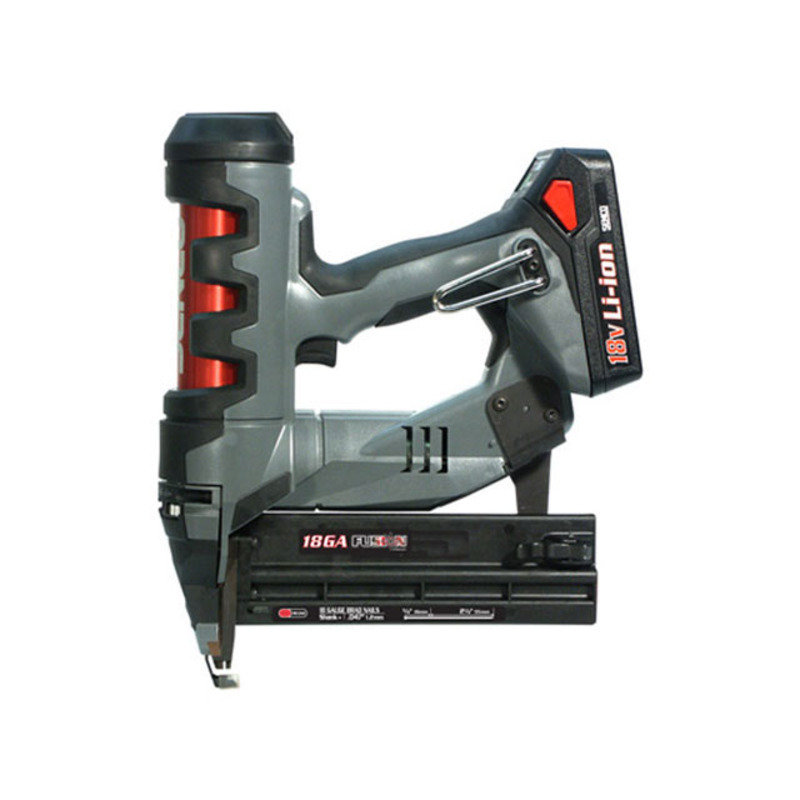 The definition of "Fusion" is the merging of different elements into a union; and in the case of the Senco Fusion F18 Finish Nailer, that union helps create of the most versatile and easy to use nailer on the market today. With the F18 Fusion, Senco takes all the power and consistency of a pneumatic tool and combines it with the portability and convenience of a cordless nailer. This means you can take the nailer wherever the work takes you, without worrying about a complicated compressor setup.
The Fusion doesn't sacrifice any power for the added portability. The eco -friendly 18 volt battery system drives the aluminum cylinder instantly when the trigger is pulled, without the need for the "ramp up" time that's associated with many standard cordless nailers. It can switch instantly between "bump" and sequential firing action, and the easy to use thumbwheel depth of drive adjustment gives you precise control over the countersink of each fastener.
Whether you're doing trim work, window casings or even furniture and cabinet work, the Senco Fusion F18 Finish Nailer will give you all the power and performance you need to get the job done quickly and accurately.
Features and Benefits:
Top power and performance
Eco friendly 18v battery
Versatile and easy to use
Technical Specifications:
Nail Diameter: 18 ga.
Fastener Range: 5/8inch — 2 -1/8inch (16 mm — 54 mm)
Instant: Drive After Trigger Pull: YES
Weight (lbs.): 6
Tool Height: 13inch
Tool Width: 3inch
Fastener Capacity: 110
Firing Modes: Sequential, Bump Fire or off
Depth of Drive Adjustment: Mechanical with Guide
Nail Jam Cleaning: Tool -Free; Removable Magazine
Battery: 18V Li -ion
Battery Charge Indicator: YES
Battery Charge Time: 80% in 15 Min.;100% in 45 Min.
Belt Hook: YES - Reversible/Adjustable
Magazine Type: Extruded Aluminum
Warranty: 2 Years - Tool
1 Year - Battery
Supplied With:
1 x Nailer
1 x Charger
1 x Battery
1 x Carry Case
Senco FUSION18G F-18 Fusion 18G Finish Brad Nailer Kit 18V 1x1.5Ah
STOCK CODE: EB/SEN6E7001N
£

439.99
(INC VAT)
£

366.66
(EX VAT)
Free delivery on orders over £50 (Most UK)
Save Money . Work Smarter
WAYS TO PAY: