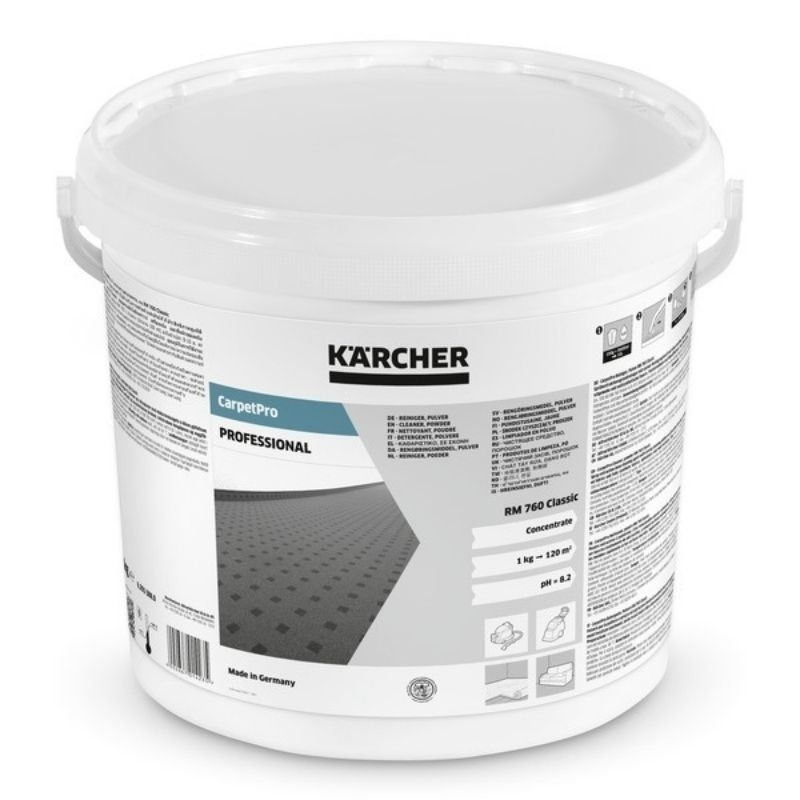 For use with all Karcher carpet machines:

Puzzi 100, 200, 300, 400, 8/1, 10/1, 10/2, 30/4


Properties:

classical basic-cleaner for spray extraction of all textile coverings and upholstery

removing grease, oil and dust

very gentle to materials

high cleaning activity even for low temperatures

improves the hygiene of the floor

contains no bleach or optical brighteners

easy to store and to handle

surfactants biodegradable in accordance to OECD

pH-value in a 1% solution approx. 8

white powder with fresh odour

Fields of application:

motor vehicle shop

interior cleaning

vehicle reconditioning

carpet and textile cleaning

Processing:

dilution temperature

spray extraction machine 1+99 (1%) up to 60°C

rinse with clear water after cleaning

Economy:

1 kg RM 760 powder is sufficient for a maintenance cleaning of approx. 100 m², presolved

1%, medium soiled carpet with a spray extraction machine.

Remarks:

test color fastness of the carpet before cleaning

do not soak the floor coverings

store frost free
Karcher RM 760 Carpet Cleaner Powder - 10kg PUZZI 8/1 10/1 10/2 30/4
STOCK CODE: KAR/RM760/CARPETPRO
£

67.99
(INC VAT)
£

56.66
(EX VAT)
Free delivery on orders over £50 (Most UK)
Save Money . Work Smarter
WAYS TO PAY: