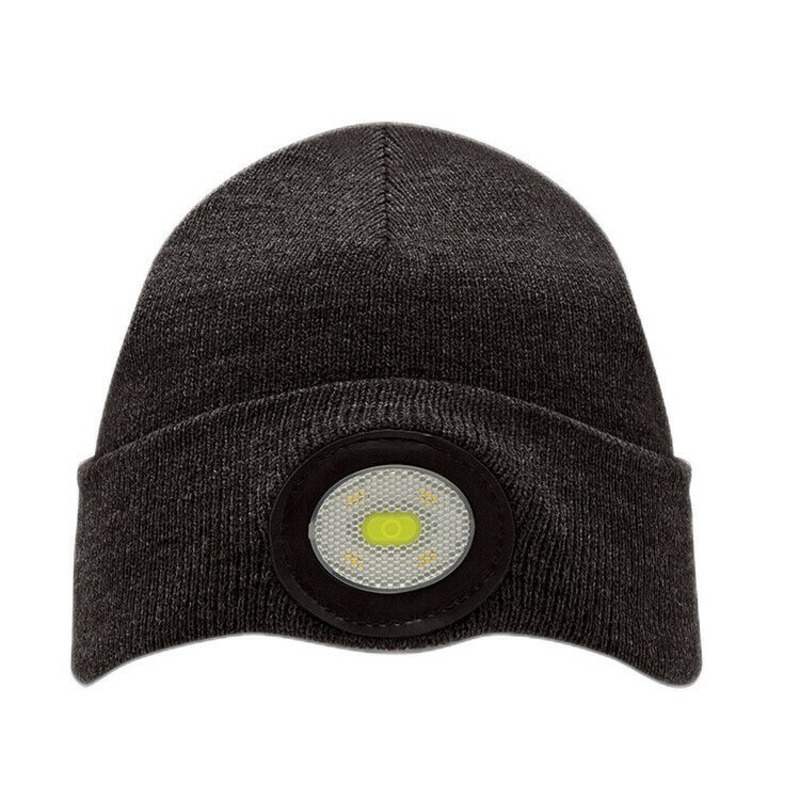 The innovative Unilite Beanie has an integrated rechargeable LED light providing 150 lumens output.
A head light has never been comfier, and it keeps your head warm at the same time, making it perfect for those late night dog walks, camping, running and professions such as an electrician or plumber. The high visibility orange or yellow beanies are also great for keeping you safe as well as warm, for example if you were running at night, or on a hazardous work site.
Three settings of high, low and flash are available from the four high powered cool white 6500k Samsung SMD LEDs and are easily cycled through with the push button located in the centre of the light.
The light itself can be popped out of the beanie to be charged up. Simply remove the dust cover and insert the light straight into a USB port or mains/car adaptor. A lanyard is also attached to the light for easy carrying when not attached to the beanie.
A red light will come on to indicate charging is in progress and will turn green once charging is complete.
Product Features
Comfortable fit, one size fits all
Rechargeable
Three lighting levels available
Operational Modes
High: 150 lumens; 2 hours, 30 minutes run-time; 13 metres beam range
Low: 40 lumems; 6 hours, 30 minutes run-time; 6 metres beam range
Flash: 2 Hz
---
Technical Details
Operating Modes: High / Low / Flash (2 Hz)
Luminous Flux: Up to 150 lumens
LED: 4 x Samsung cool white 6500k SMD LEDs
Focus: Fixed focus
Batteries Required: Built-in 420 mAh lithium polymer battery
Run Time: Up to 6 hours, 30 minutes (low)
Charging Time: 4 hours
Weight: 102 grams
Switch Type: Push button
Body Material: Beanie: polyester (machine washable at 30°)/ Light unit: acrylic
Impact Resistance: 1 m
Regulatory Compliance: CE / RoHS
---
Packaging and Contents
Supplied in Retail Packaging and Includes:
Unilite Beanie LED head light x 1
Unilite BE-02+ Beanie Hat plus Detachable Rechargeable LED Light
STOCK CODE: EB/UNI/BE-02+
£

16.99
(INC VAT)
£

14.16
(EX VAT)
Free delivery on orders over £50 (Most UK)
Save Money . Work Smarter
WAYS TO PAY: