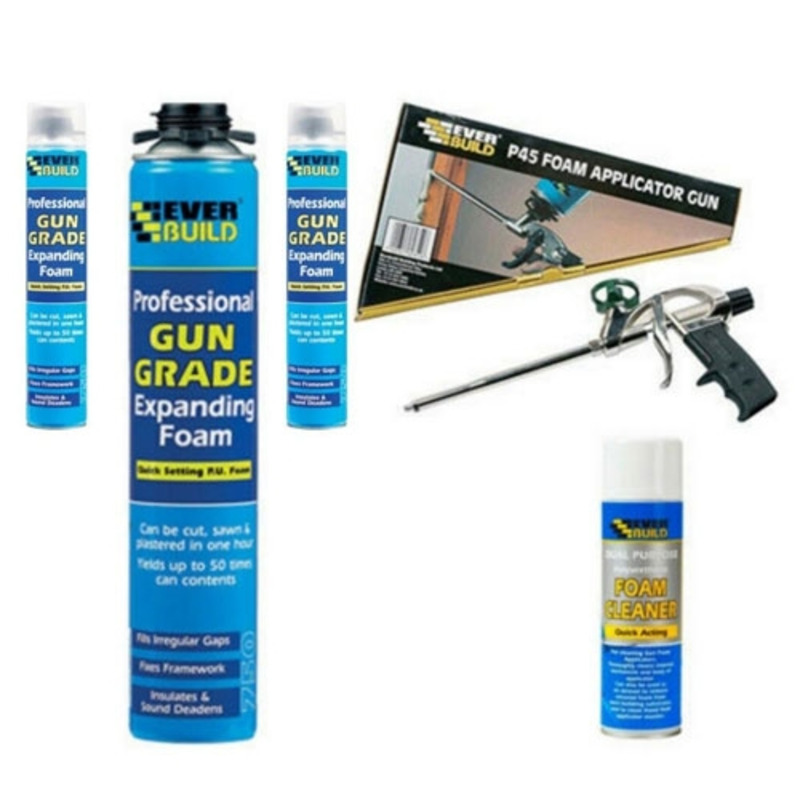 Professional PU Expanding Foam Gun Applicator:
Manufactured by Xpert, this is a high quality professional gun applicator for use with gun grade canisters. Steel body with a polished chrome finish and steel nozzle. It is used in the sealing of cavities, usually encountered when mounting and fitting windows, door frames and when roofing etc. This ergonomically designed gun will be pleasing in the hand of the ardent handyman and the professional alike. Fitting the Professional PU Foam Gun is quick and easy - just screw onto any gun grade canister, pull the trigger to release a controlled flow of expanding foam and away you go - simple.
PU Polyurethane Expanding Gun Grade Foam X 3:
EVERBUILD 750ML GUN FOAM is a one-component, self expanding, ready to use polyurethane foam, and comes with a with a standard thread plastic adaptor head to fit all makes of applicator guns! It is top professional gun grade expanding foam which can be used for the fixing of windows and doors, filling holes, insulating, soundproofing and many other uses. Contains propellants which are completely harmless to the ozone layer.
Expanding Foam Gun Cleaning Solvent:
As any good workman knows maintenance of the tools he works with is of paramount importance. For any person who regularly uses expanding foam, a good quality gun is a necessity; looking after such a tool prolongs the life and ensures a good foam flow every time. Gun & Foam cleaner has been specially formulated to clean PU-Foam applicator guns by screwing the can directly to the gun and blowing any uncured foam through the nozzle. The foam gun cleaner has been designed to fit standard threads on all PU foam applicator guns, the can may also be converted to a normal spray can to clean the exterior of the gun from uncured foam.
Features:
Professional Gun with chrome plated all metal aluminium body, steel nozzle

Adjustable easy control flow

Comes complete with straw nozzle and gloves

Fitted with new unique non corrosive valve which allows for use at any angle

Top professional gun grade

Contains ozone friendly propellants

Gun cleaning solvent, removes and dissolves fresh, uncured PU (polyurethane) foam

Dual Function; Fitted with an adaptor ring which screws directly onto the gun, can also be used as a spray can away from the gun

Environmentally safe propellant, high strength formula
Everbuild Expanding Foam Kit w/ Gun, cleaner and 3 x Gunfoam.
STOCK CODE: EB/GUNFOAMKIT3
£

32.99
(INC VAT)
£

27.49
(EX VAT)
Free delivery on orders over £50 (Most UK)
Save Money . Work Smarter
WAYS TO PAY: