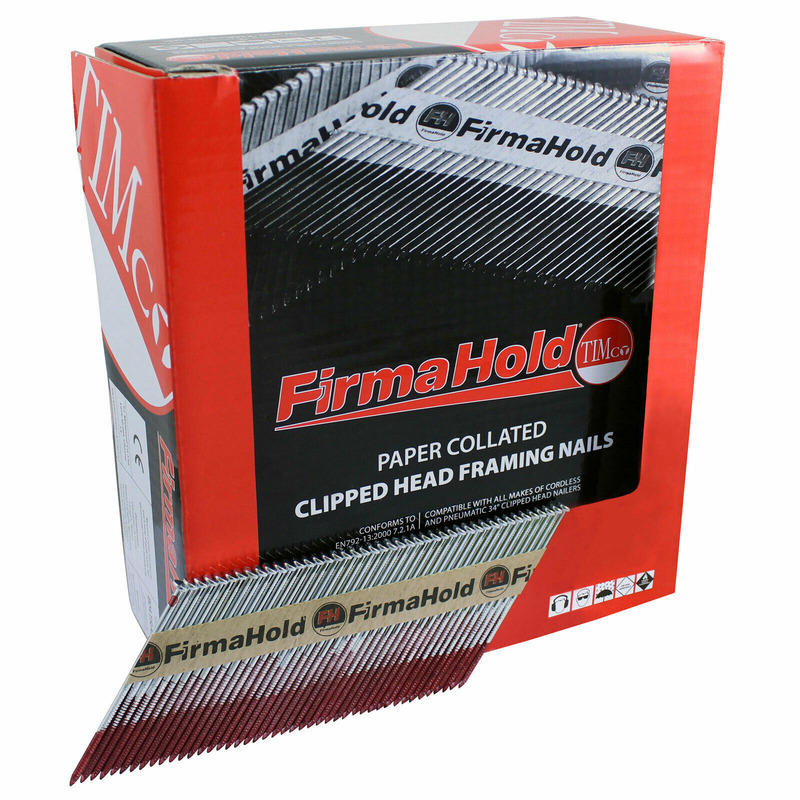 Features:
Diamond Point for maximum penetration.
Clipped head to increase the number of nails per strip and therefore reduce tool loading times.
High quality paper to increase performance and reduce risk of nail jam.
Ring Shank: Provides a secure fixing with high pull-out resistance.
Coatings, Materials & Service Class:
FirmaGalv (FG): Electro galvanised plating, suitable for indoor applications.
Conforms to eurocode 5 and service class 1.
For use with first fix nailers - DCN692N / M18FFN
Product Specification:
Part Number: CFGT50
Barcode: 5055017592227
Size: 2.8 x 50
Length (mm): 50
Diameter: 2.8
Shank Type: Ring
Coating Type: FirmaGalv
Nails Per Strip: 44
Collation Angle: 34
Pack Qty (Pcs): 3300
Timco FirmaHold 50mm Galv Ring Shank Collated Clipped Head Nails Pack of 3300 CFGT50
STOCK CODE: TIM/CFGT50
£

29.99
(INC VAT)
£

24.99
(EX VAT)
Free delivery on orders over £50 (Most UK)
Save Money . Work Smarter
WAYS TO PAY: