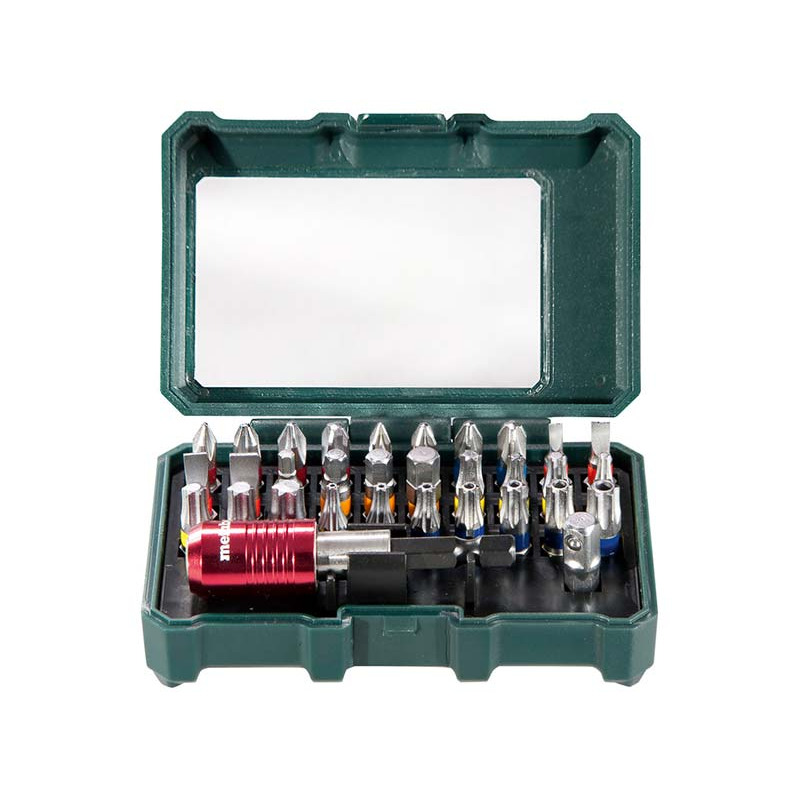 The Metabo 626700000 Driver Bit Assortment Set 32pc is a collection of bits crafted from chrome vanadium steel (S2 quality). These bits are colour coded, which helps users identify and organise them more rapidly. It comes with a high quality, robust box in special Metabo design, with extendable Euro hole hanger. The set also includes a magnetic quick change adapter, as well as an adapter for socket wrench inserts. Ideal for professional and DIY use.
Features and Benefits:
Includes a magnetic quick change adapter.
Crafted from chrome vanadium steel
Colour coded for easy convenience and organisation.
Technical Specification:
Consisting of S 2 bits, L 25 mm
30 pcs - PH 1 x 1, PH 2 x 2, PH 3 x 1; PZ 1 x 1, PZ 2 x 2, PZ 3 x 1; SL 3, SL 4, SL 5, SL 6
1 each of H 3, H 4, H 5, H 6; T 10, T 15, T 20, T 25, T 27, T 30, T 40
Torx-Tamper: one each of T 10, T 15, T 20, T 25, T 27, T 30, T 40
1x adapter, 1x magnetic bit holder 65 mm
Metabo 626700000 Driver Bit Assortment Set 32pc
STOCK CODE: EB/MET626700000
£

7.99
(INC VAT)
£

6.66
(EX VAT)
Free delivery on orders over £40
Save Money . Work Smarter
WAYS TO PAY: