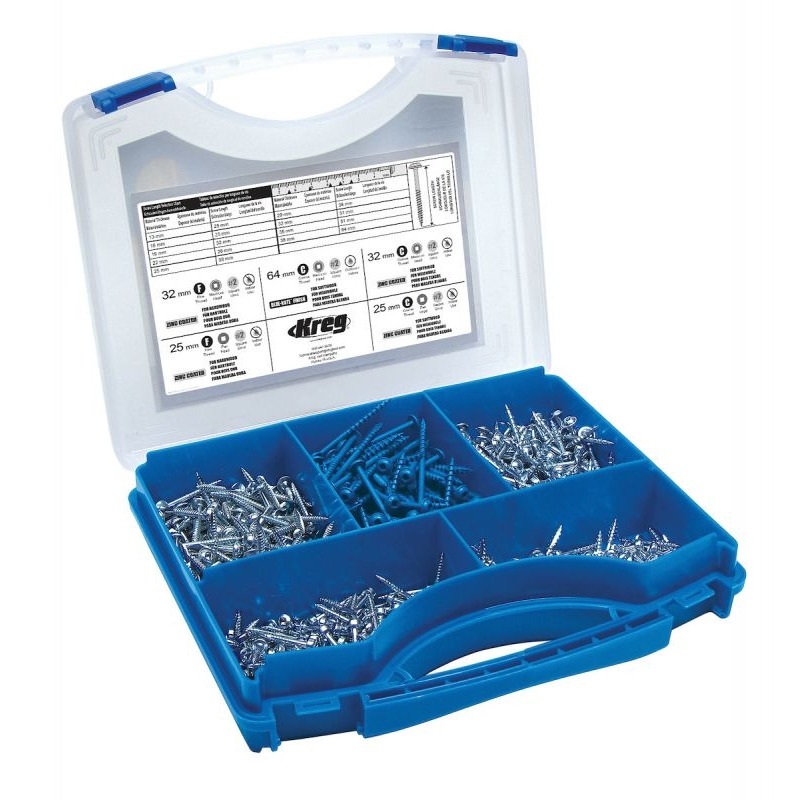 Main areas of use:
Kreg Screws are specifically designed to hold your pieces together to create a strong, long-lasting joint. Assortment includes: (150) SPS-F1 25mm (150) SPS-C1 25mm (150) SML-F125 31mm (150) SML-C125 31mm (75) SML-C250B 63mm

This kit contains five of the most popular self-tapping Kreg Screws, secured in a durable, easy-to-carry case. Makes a great starter kit for anyone new to Kreg Joinery.
Key Features:
Contains 675 of the most popular Kreg Screws

Square-drive prevents bit slipping while driving

Flat-bottom head seats firmly in pocket-hole

Smooth shank draws the joint together

Self-tapping tip drills its own hole without splitting

Case-hardened steel won't bend, break, or snap

Secured in a durable, easy-to-carry case

Great starter kit for those new to Kreg Joinery
Specification:
150-each of:


SPS-F1 - 1" (25mm)




SPS-C1 - 1" (25mm)




SML-F125 - 11/4" (31mm)




SML-C125 - 11/4" (31mm)




75-each of:


SML-C250B - 21/2" (63mm)




Screw Diameters:


#8 - All SML coarse-threaded screws (with the exception of stainless).




#7 - All SML fine-threaded screws and all SPS coarse-threaded screws.




#6 - All SPS fine-threaded screws.
Kreg SK03-INT 675 Piece Kreg Pocket Hole Screw Kit
STOCK CODE: EB/KREG/SK03-INT
£

22.99
(INC VAT)
£

19.16
(EX VAT)
Free delivery on orders over £50 (Most UK)
Save Money . Work Smarter
WAYS TO PAY: