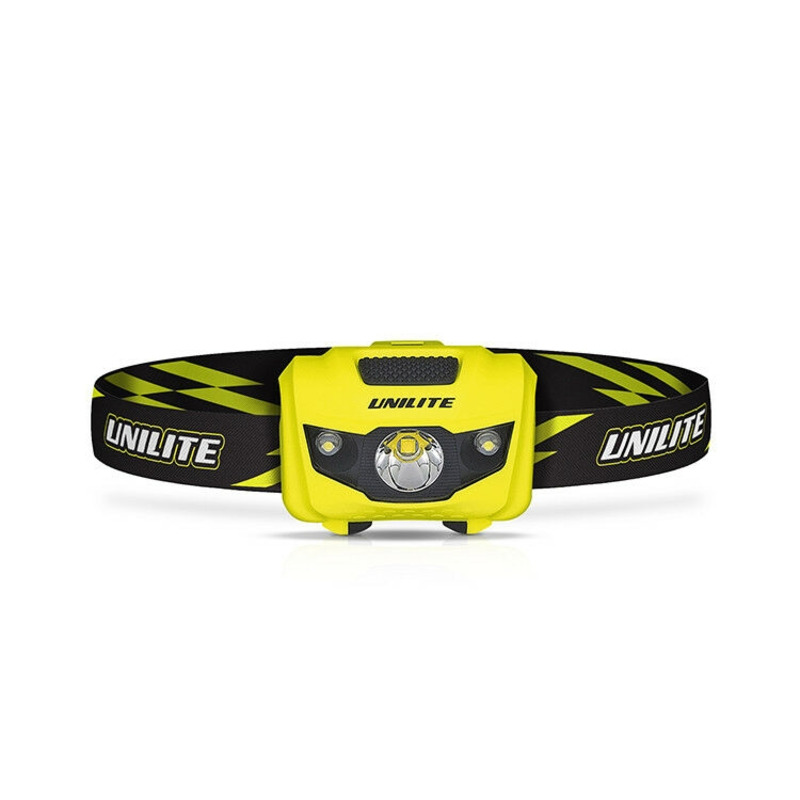 The Unilite PS-HDL2 can provide a maximum of 200 lumens of white light from the central Cree LED when in the highest setting.
Four settings of high, mid, low and SOS are available from the central spot Cree LED and the two side LEDs provide high and low flood lighting options as well as a strobe function.
Quick single presses cycle through the settings of high spot, mid spot, low spot, SOS and off. To switch between the spot LED and the flood LEDs press and hold the button down while the head torch is on. The PS-HDL2 will remember the last used mode (spot or flood) and will turn back on in that mode until you hold the button down again to change modes. Once the side LEDs are selected, they will then cycle through high flood, low flood and strobe.
As well as the adjustable headband, the PS-HDL2 also includes a bracket with a 3M adhesive pad on the back so that you can attach the head torch unit to an industrial helmet or a sports helmet.
The head can be tilted forwards up to 45° so you can direct the light where needed and it can shine up to 90 metres distance. The bracket housing is hollowed to reduce the weight, making this a super lightweight head torch that only weighs 88 grams including the batteries.
Powered by three AAA alkaline or NiMH batteries (not compatible with lithium batteries), the PS-HDL2 has a run-time of up to 5 hours in the high setting.
Product Features
Easy push button switch
Spot light and flood light options
Helmet mountable with adhesive pad
Fluorescent body design for high visibility
Rubberised Non-Slip Headbands for increased durability
Operational Modes
Spot:
High: 200 lumens; 5 hours run-time; 90 m beam range
Mid: 60 lumens; 10 hours run-time; 50 m beam range
Low: 4 lumens; 120 hours run-time; 10 m beam range
Flood:
High: 25 lumens; 30 hours run-time; 6 m beam range
Low: 10 lumens; 100 hours run-time; 4 m beam range
---
Technical Details
Operating Modes: Spot: High / Mid / Low / SOS, Flood: High, Low, Strobe
Luminous Flux: Up to 200 lumens
LED: 1 x Cree LED / 2 x Side LEDs
Focus: Fixed focus
Beam Range: Up to 90 m
Batteries Required: 3 x AAA alkaline (included) or 3 x AAA NiMH (not included)
Run Time: Up to 120 hours (low)
Weight: 88 grams (including batteries)
Strap: Adjustable
Switch Type: Push button
In-Built Technology: High visibility technology
Impact Resistance: 1 m
Environmental: Water resistant to IPX6 standard
Regulatory Compliance: CE / RoHS
---
Packaging and Contents
Supplied in Retail Packaging and Includes:
Unilite PS-HDL2 head torch x 1
Energizer AAA alkaline battery x 3
3M adhesive helmet bracket x 1
Manual x 1
Unilite PS-HDL2 LED Light Weight Head Torch
STOCK CODE: EB/UNI/PS-HDL2
£

16.99
(INC VAT)
£

14.16
(EX VAT)
Free delivery on orders over £50 (Most UK)
Save Money . Work Smarter
WAYS TO PAY: